Overview
Leg length discrepancy is an orthopaedic problem that usually appears in childhood, in which one's two legs are of unequal lengths. Often abbreviated as ?LLD,' leg length discrepancy may be caused by or associated with a number of other orthopaedic or medical conditions, but is generally treated in a similar fashion, regardless of cause and depending on severity. Leg length discrepancy is sometimes divided up into 'true LLD' and 'functional LLD.' Functional LLD occurs when the legs are actually equal in length, but some other condition, such as pelvic obliquity (a tilt in the position of the pelvis), creates the appearance of legs of different lengths.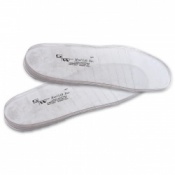 Causes
Leg discrepancy can develop from a medical issue in any portion of the femur or tibia. One leg may lengthen, but leg shortening is much more common. Factors that can cause leg length discrepancy include inherited growth deficiencies. Infections. A bone infection can cause delayed growth in the affected limb. Injury. If your child breaks a leg, it may be shorter once it heals. This is most likely to happen if the fracture or break was complicated, an open fracture, or an injury that affected the growth plate near the end of the bone. Alternatively, a break can cause bones to grow faster after healing, making a leg longer. Tumors. Legg-Calve-Perthes disease. This is a condition that affects the ball (femoral head) of the hip joint. The femoral head may be friable and damage easily, sometimes leading to shortening of the thigh bone. Hemihypertrophy. In children with this condition, one side of the body grows more quickly than the other. Vascular malformations. These are abnormal clusters of veins and arteries that can form close to the bone and stimulate growth. Juvenile arthritis. Inflammation from arthritis can stimulate growth in the affected leg and cause discrepancy.
Symptoms
Children whose limbs vary in length often experience difficulty using their arms or legs. They might have difficulty walking or using both arms to engage in everyday activities.
Diagnosis
The doctor carefully examines the child. He or she checks to be sure the legs are actually different lengths. This is because problems with the hip (such as a loose joint) or back (scoliosis) can make the child appear to have one shorter leg, even though the legs are the same length. An X-ray of the child?s legs is taken. During the X-ray, a long ruler is put in the image so an accurate measurement of each leg bone can be taken. If an underlying cause of the discrepancy is suspected, tests are done to rule it out.
Non Surgical Treatment
People with uneven leg lengths may be more prone to pain in their back, hips, and knees; uneven gait; and lower leg and foot problems. Due to its risks, surgery is typically not recommended unless the difference is greater than one inch. In cases where the difference is less than one inch, providing the same support for both feet is the most effective. This can be achieved by getting custom-fitted orthotics for both feet. Orthotics are inserts that you wear in the shoes. Your chiropractor will request to measure your feet and possibly your legs. You can step on a device that will take the measurements or you might have a plaster cast of your feet taken. Orthotics are typically made from plastic and leather, and function biomechanically with your foot. If a leg length discrepancy is not properly corrected with orthotics, your chiropractor may recommend a heel lift, also known as a shoe lift. You simply place it in the back of your shoe along with the orthotic. Typically, you will only wear the heel lift in one shoe to assist the shorter leg.
what is a heel raise?
Surgical Treatment
Differences of an inch-and-a-half to two inches may require epiphysiodesis (adjusting the growth of the longer side) or acute shortening of the other side. Differences greater than 2.5 inches usually require a lengthening procedure. The short bone is cut and an external device is applied. Gradual lengthening is done over months to allow the muscles and nerves accommodate the new length.